An Aircraft Engineer also known as Aircraft maintenance engineer (AME).. Aircraft Maintenance Engineer is a licensed person to ensure that aircraft is airworthy.. Various terms are used to describe an Aircraft Engineer.. Aircraft Maintenance Technician is used in the Europe. In united States of America Aircraft mechanic. Some part of the world AME's are also called licensed Aircraft engineers (LAME)..
How to become An Aircraft Engineer?.
All aircraft must carry a valid Certificate of Airworthiness and now an Airworthiness Review Certificate to be legally allowed to fly.In order for this certificate to remain valid, all maintenance on the aircraft must be certified by a licensed Aircraft Maintenance Engineer. All aircraft are maintained periodically in accordance with the Aircraft Maintenance Schedule. Aircraft Maintenance Schedule comes from the manufacturer of the aircraft. Aircraft Maintenance Schedule must be approved by local aviation authority. AMEs must rectify defects. Defects can be reported by pilots/ cabin crew or found by any maintenance personnel. defects should be rectified in accordance with Aircraft Maintenance Manuals (AMM), Illustrated Part Catalogues (IPC), and Wiring Diagram Manuals (WDM)..
All work performed will be periodically reviewed by Quality Assurance Department. From time to time, audits are carried out by Quality Assurance Department and Local Aviation Authority on AMEs. Therefore, AMEs carry considerable legal responsibility for ensuring that work has been performed in accordance with the applicable standards of airworthiness..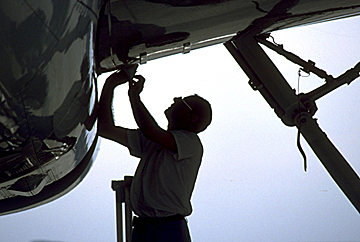 AIRCRAFT MAINTENANCE ENGINEER's WORKPLACE.
An Aircraft Maintenance Engineer can be employed at Line, Base or Workshops. The Line maintenance Engineers will work at the ramp area. They usually carry out transit checks unless there is a defect to be rectified. The Base maintenance Engineers are usually employed at hanger maintenance.They will be involved in Scheduled maintenance. Workshop Engineers are usually works at the workshop. They are responsible for overhauling a particular component. Workshops Engineers are not required to have a license issued by the competent authority. But it is necessity for them to have company Approval. company Approval is given by an approved 145 MRO which certifies the individual, has attended a relevant course and obtained adequate knowledge and skills. No engineer has the privilege to sign any Aircraft unless their license are valid and he holds the type rating of the particular Aircraft..
Follow @AEinfo